Well everyone, Christmastime is upon us and we are almost at the end of 2011. But what were the most important events that occurred in our culture over the last year? This week's 10 FAVORITES is a special 2011 review, picking the 10 moments that shaped the entertainment and pop culture world over the last 364 days (give or take a few!).
2011: A YEAR IN REVIEW
EASTERN CHANGES
The Deaths of Bin-Laden, Gaddafi, Kim Jong-Il and the Resignation of Mubarak
The Middle Eastern region was given quite an uproar over the last year. First, Egyptian leader Hosni Mubarak resigned in disgrace after over two weeks of riots and demonstrations against his questionable leadership. Then, after years of hunting him down, President Barack Obama announced at the end of May that justice has been served as a US Seal team had found and assassinated Al-Qaeda terrorist leader Osama Bin-Laden. After a long summer, Libyan dictator Muammar Gaddafi was killed by rebels after NATO took down his forces. And if all that wasn't enough, recently from the Far East, North Korea revealed that their "Dear Leader" Kim Jong-Il had passed away (from unknown causes!). Could it be that these once troubled nations will live in peace with the rest of the world? Or are they in a deeper abyss of despair than they once were? Only time shall tell.
WINNING!
Charlie Sheen's Meltdown
Talk about a method to leave a hit network show! Former Two and a Half Men star Charlie Sheen seemed to be on a downward spiral since his very public arrest last year at Christmastime. But halfway through his firing from the CBS ratings bonanza, he informed us all that he is not like us. No, he has "tiger-blood" and "adonis DNA," so you cannot apply the same rules to him as you do us mere mortals. By all accounts (according to Sheeen!), he is clearly "Winning!" And with those statements, the Charlie Sheen meltdown was off and running. He, of course, tried to use it to his advantage by launching a critically panned lecture tour and signing on for a new "sitcom" with a cable network (where apparently he doesn't have the "creative" restraints that a broadcast network has!). If this is "Winning!" Mr. Sheen, then, by all means, have at it.
A ROYAL WEDDING
William and Kate Make It Official
30 years after his parents had their lavish and hard-to-compete-with Royal wedding, Prince William married his longtime girlfriend Kate Middleton. With this marriage, they are now officially referred to as the Duke and Duchess of Cambridge. The wedding was watched in almost every country by millions upon millions, and in this 24/7 Internet age the wedding was watched over and over again. Now, almost 8 months after the wedding, the rumors are flying (marriage in trouble, Kate's baby bump, etc.). But despite all this, the couple seem happy in their new life together. Let us hope they can weather the storm that is the media hype and the "Royal fishbowl" together in health and happiness.
GOODBYE AND A-HA!
Oprah's Farewell
After 25 years of laughs, tears, screams, celebrities, favorite things and A-ha moments, talk show queen Oprah Winfrey aired the final episode of her show at the end of May. There was a lot of build up to that final hour. The two days before were devoted to a "Surprise Spectacular" that was held for Ms. Winfrey at Chicago's United Center where every celebrity from Tom Hanks to Will Smith to Madonna to Beyonce to Aretha Franklin paid homage to the woman that has shaped our culture for the last quarter of a century. On the final day, there was just a chair and Ms. Winfrey speaking to her audience (both in studio and not) about what this journey has meant to her. She did not say "Goodbye," but she did say "Until we meet again." And, of course, with her new network OWN, we shall be seeing her again. But thanks to her daily talk show, our culture was never the same.
THE MAGIC ENDS
Harry Potter Casts His Final Spell
7 books plus 8 movies equals a pop culture phenomenon. J. K. Rowling's sprawling fantasy series about the boy wizard with a lightning scar has been read by billions. Her last book, Harry Potter and the Deathly Hallows, was wisely turned into two movies by Warner Brothers (the company that had been producing the other 6 films!). Part I premiered in November of last year and Part II became one of the most eagerly anticipated films of the last decade. On July 15, the world watched as the cast (which has been mostly the same since the first film!) played their parts for the eighth and final time. The movie was a box office smash making almost $400 million in the U.S. and triple that worldwide (cementing the Harry Potter film series as the highest grossing film franchise of all-time!). The reviews for the film were among the best any of the others within the series. And thanks to DVD (and countless TV airings), the series shall live on forever.
A FAIRY TALE WEDDING (AND ITS UNHAPPY ENDING!)
Kim Kardashian Weds (and Divorces!)
There are just no words people! This is our culture these days! And I blame all of you. Just so you know.
FALL TV 2011
All the Single Ladies!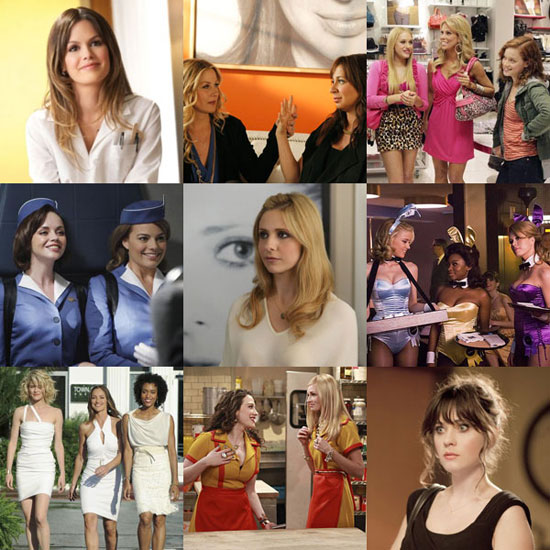 The ladies certainly made good this Fall TV season. Several of the new shows centered around women (mostly single!) and each of them had varying degrees of success (and others just flopped!). FOX sitcom New Girl starring the charming Zooey Deschanel became the surefire hit of the new season garnering praise for its star and its style. The show received top nominations at the Golden Globes (for Best Comedy Series and Best Actress for Ms. Deschanel). Other female-centric sitcoms that hit it big were NBC's Up All Night (starring Christina Applegate and SNL alum Maya Rudolph), ABC's Suburgatory, and CBS' 2 Broke Girls (co-created by comedienne Whitney Cummings, whose other sitcom NBC's Whitney received renewal!). Then there are the female-lead dramas. The biggest ratings hits were CBS' Unforgettable (starring Without a Trace's Poppy Montgomery) and ABC's Revenge (featuring a deliciously wicked Madeleine Stowe), the latter garnered a Golden Globe nod for Lead Actress (Ms. Stowe). Other dramas included ABC's Sunday package (alongside their outgoing hit Desperate Housewives!): the fantasy-themed Once Upon a Time and the 60's era stewardess tale Pan Am. And the CW had a string of female-lead dramas (The Ringer, Hart of Dixie and The Secret Circle), all of which received renewal from the 5th place network. As for ABC's reboot of Charlie's Angels and NBC's 60's era The Playboy Club (each female-lead!), the axe fell pretty quickly when the ratings were not high. And unfortunately, NBC also cancelled the high quality American reboot of Prime Suspect, which featured a powerful and nuanced performance from star Maria Bello. This Fall certainly was all about the Ladies!
THE RAINBOW RETURNS
The Muppets Make a Comeback
I have said so much about my love for The Muppets. And this Thanksgiving, I got the wish I had been wishing for for over a decade. A brand new theatrically-released Muppet movie (simply titled: The Muppets). The movie was such a nostalgic throwback for me, yet still had enough modern sensibility that it could thrill children today. All of my favorites were there: from Kermit the Frog to Miss Piggy to Fozzie Bear to The Great Gonzo to The Electric Mayhem! And each character had their moment to shine. There were certainly moments when my eyes welled with tears (remembering the happiness with which these colorful characters filled my childhood). And there, of course, were moments where I laughed so hard that I could cry. The Muppets are back and I hope it won't be too long before I see them again!
THE G.O.P. DEBATES
Political Pundits Remain Flummoxed
After a few months of debates between the high-profile Republican party Presidential candidates for next year's election, there still is no clear front-runner as far as the major media outlets are concerned. Some say that former Speaker of the House Newt Gingrich leads in the polls. A lot of the Republican experts still favor former Massachusetts Governor Mitt Romney. And many of the Republicans I know personally have claimed they will vote for Ron Paul. And with the dropping out of Minnesota Governor Tim Pawlenty and the scandal that forced Herman Cain to suspend his seemingly successful campaign, many Conservatives are concerned they will not find someone who can take on President Obama in the 2012 General Election. In the next coming months, as we have more debates and several states begin their important primaries, we shall see which one of these people shall emerge as the GOP's candidate for President.
IN MEMORIAM 2011
Elizabeth Taylor, Peter Falk, Amy Winehouse, Andy Rooney & Steve Jobs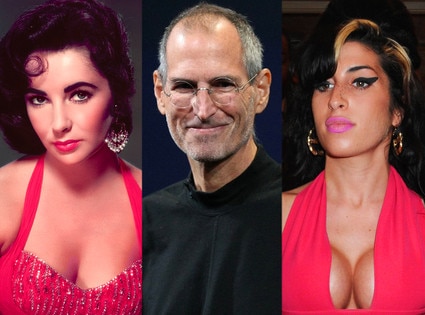 We lost a lot of great people in 2011. Among the most notable included 60 Minutes icon Andy Rooney, troubled pop singer Amy Winehouse, TV's Columbo Peter Falk, Apple founding "genius" Steve Jobs and Hollywood's ever-glamorous leading lady Elizabeth Taylor. They live on for us through their contributions and their impact on the culture.