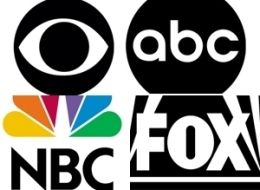 With the new Fall Season looming, I of course have various thoughts on the new crop of shows the major networks are offering the public. Some of the Dramas look interesting (
Elementary
,
Last Resort
,
Nashville
), some of them look ho-hum (
The Mob Doctor
, half of The CW's new shows), others are more in the middle (
Revolution
,
Vegas
,
Chicago Fire
) and others look downright awful (
666 Park Avenue
,
Made In Jersey
, the other half of the The CW's new shows).
But the real issue I'm having trouble with this Fall is the new batch of Sitcoms four of the major networks are giving us. Let's face it: the Sitcom is dying. While shows like
Modern Family
,
Parks and Recreation
and
The Big Bang Theory
are trying their hardest to save the art form from its life support status, cable shows and network "dramedies" are definitely changing the face of TV Comedy. Which is why it saddens me that with 9 new Sitcoms premiering on Broadcast TV this Fall, only about a third of them look like they have the potential to be the next
30 Rock
(which is sadly saying "Goodbye" to us after this year!). And believe me when I just say "have the potential." Based on what I've seen, even the ones that can be called "Good" have a long way to go before they reach the status Tina Fey's gem has. So today, I want to take you through the 9 new Sitcoms and give you my first impressions of them based on their trailers, network promotions and (in some cases) their first episodes (5 of the new Comedies have their pilots available on
Hulu.com
and I will let you know which ones!).
Let's start with CBS!
Partners
Premieres:
September 24
Regular Time Slot:
Mondays at 8:30 PM
Premise:
Two friends/business partners, one straight and the other gay, are closer with each other than with their significant others (in other words, a bro-mance!).
Impressions:
If this seems like familiar territory for a Sitcom, it certainly is for its creators: Dave Kohan and Max Mutchnick, the minds behind
Will & Grace
(who have had a close friendship ever since they wrote for
Seinfeld
and
Friends
). The cast seems likable:
Numb3rs
' David Krumholtz and
Ugly Betty
's Michael Urie play the best buds; while
One Tree Hill
's Sophia Bush and
Superman Returns
star Brandon Routh play their respective significant others. And it seems like it will fit in with CBS' other hits like
The Big Bang Theory
,
How I Met Your Mother
and last year's break-out
2 Broke Girls
. Yet there is something about this show that just seems like "Been there, done that." It is basically
Will & Grace
, where "Grace" has been changed to "Greg." It could pass for decent, however it could really tank. It's on a delicate precipice.
Grade:
B-/C+
That's it for CBS' new Sitcom (yes they only have one new Sitcom!). Let's move on to ABC!
The Neighbors
Premieres:
September 26
Regular Time Slot:
Wednesdays at 8:30 PM
Premise:
A typical suburban family is thrown for a loop when they realize their seemingly nice new neighbors are space aliens.
Impressions:
This just looks horrible. It looks like a bad version of a bad 1980s Sitcom (like a bad version of
ALF
, which is odd because I always thought
ALF
was the bad version of
ALF
!). It even stars
Square Pegs' Jami Gertz
! Maybe this
IS
a bad 1980s Sitcom! Wait a minute...has Disney finally perfected Time Travel?!?! It certainly seems that way!
Grade:
D
Malibu Country
Premieres:
November 2
Regular Time Slot:
Fridays at 8:30 PM
Premise:
Country superstar Reba McEntire plays a country singer who, after a divorce, moves her family from Nashville to Southern California (and the SPOILER is her character's name: Reba!).
Impressions:
As much as I like Reba McEntire and her forays into "acting" (her turn on Broadway as Annie Oakley earned her well-deserved raves!), she never seems to be able to play any character that isn't a variation of herself. And while I found her previous Sitcom quite charming (it's becoming more and more popular in Cable syndication!), this one should just be titled
Reba in L.A.
or
Reba Takes On Hollywood
or some variation that involves Reba and the Greater Los Angeles area. We'll have to wait until November to see if this show can survive. On a side note: It is always great to see the brilliant Lily Tomlin. And Sara Rue and Jai Rodriguez are each charming enough to get some laughs and attention. I will say Reba has an eye for getting good co-stars (more on that later!).
Grade:
C
From the House of Mouse to the House that Rupert built, next up is FOX!
Ben and Kate
Premieres:
September 25
Regular Time Slot:
Tuesdays at 8:30 PM
Premise:
The title characters are brother and sister. They have a bond that no one (including their quirky behavior) can break.
Impressions:
Initially, when I saw the trailers back in May, this was the show I wanted to root for and wanted to like. It's trailer isn't overwhelmingly impressive, but its premise is the most intriguing. I have yet to watch
the full pilot
, but I have seen plenty of clips. And overall, it seems like the show will ultimately be Kate (the extremely likable Dakota Johnson) meeting wrong guy after wrong guy week after week; while her clownish, irresponsible brother Ben (a somewhat hilarious Nate Faxon) ineptly tries to care for her wise-beyond-her-years young daughter (
We Bought a Zoo
's adorable Maggie Elizabeth Jones). I have hopes, but they could easily be dashed. Airing between FOX hits
Raising Hope
and
New Girl
certainly couldn't hurt!
Grade:
B-
The Mindy Project
Premieres:
September 25
Regular Time Slot:
Tuesdays at 9:30 PM
Premise:
The Office
supporting player Mindy Kaling steps into the spotlight as a top doctor whose love life needs the kind of work she puts into her career.
Impressions:
Of all the new Sitcoms, this is the ones the critics say to watch. I have seen
half of the pilot
and she certainly is a star. Yet I am getting this strange
"

Déjà vu"
feeling. It feels like when they offered her this Sitcom, they told her they wanted to see her as a Meg Ryan-ish
Ally McBeal
type. And that genre has never really thrilled me (though I initially adored
Ally McBeal
back in its first few years and
When Harry Met Sally...
is still rightfully lauded as a hallmark of the genre!). If this Sitcom is to be a hit, it will have to be on the shoulders of its Grade A star (who honestly was one of the best parts of
The Office
over the last few years!). And it is possible, FOX was able to do it last year with
New Girl
and its Emmy-nominated star Zooey Deschanel! Maybe some of that magic can rub off on Mindy (let's hope!).
Grade:
B
Both shows' pilots are available for viewing on
Hulu.com
.
And lastly, the network with the most new Sitcoms this Fall: NBC!
Go On
Premieres:
September 11
Regular Time Slot:
Tuesdays at 9 PM
Premise:
Matthew Perry stars a sports radio show host who, after the loss of his wife, must attend several hours of group therapy.
Impressions:
After watching the pilot in August (NBC gave a sneak peek during the Olympics!), I can safely say that this new show has the most impressive cast of the Fall season. In addition to Perry (who hasn't had a TV hit since a little show called
Friends
!), the therapy group features Tony-winners Laura Benanti and Julie White,
Everybody Hates Chris
' Tyler James Williams (who is growing into a really good actor!) and always delightful character actors Suzy Nakamura and Bill Cobbs.
Harold and Kumar
's John Cho has a small supporting role as Perry's sarcastic and bottom-line boss. This show has the most potential of all the Sitcoms this Fall, which means it will probably get cancelled before it can really develop.
Grade:
B+
The New Normal
Premieres:
September 11
Regular Time Slot:
Tuesdays at 9:30 PM
Premise:
From
Glee
creator Ryan Murphy, a gay couple enlists the help of a single mother to expand their family.
Impressions:
Ryan Murphy has proven he is good at launching an interesting series (
Nip/Tuck
,
American Horror Story
and, of course,
Glee
). It's just that once you get passed the usual excellent first episodes, the bloom comes off the rose faster than you can say let's do a Led Zeppelin and Barbra Streisand Mash-Up! The cast (which includes
National Treasure
's hilarious Justin Bartha,
The Book of Mormon
star Andrew Rannells and the amazing Ellen Barkin) is certainly not something to overlook. And the characters seem like typical Murphy-like characters (Barkin is like a richer, snobbier version of Sue Sylvester, if that exists!). However, Murphy likes to get message-y.
Glee
has become a referendum on teen bullying and expressing who you are (and why it makes you special!). This show seems to be along the lines of what defines a family and all children need is love to grow into the best they can be. We've heard all this before, yet in an Election year where both parties are putting "family values" on the table, it seems like we all need to hear it more often.
Grade:
B-
Guys With Kids
Premieres:
September 12
Regular Time Slot:
Wednesdays at 8:30 PM
Premise:
The title pretty much says it all. It's about fathers and their daily life as dads.
Impressions:
This Jimmy Fallon-produced show has a few things going in its favor. It's a Family Sitcom in a day and age where not many of those exist. It features the very likable Anthony Anderson alongside blast-from-the-past Tempest Bledsoe (Vanessa from
The Cosby Show
) as his loving and patient wife. However, in 2012, playing with the "Guy taking the Mommy role" stereotype just comes off as un-appealing. If this were back in the 1980s, on the heels of the Feminist movement, it might have had a fighting chance. But here we are in the 21st Century and: Yes, men can be responsible Fathers without looking like complete and utter morons. But what can I expect from the same company that idolizes Jimmy Fallon?
Grade:
C-
Animal Practice
Premieres:
September 26
Regular Time Slot:
Wednesdays at 8 PM
Premise:
Weeds
' Justin Kirk stars as a
House
-like veterinarian who loves animals but just can't stand people (maybe PETA can sponsor the show!).
Impressions:
What can you say about a show where a theatrically trained, Emmy-nominated actor gets to recite one-liners to a character named Dr. Monkey?!?! Not even the very charming Joanna Garcia-Swisher (who co-starred on
Reba
as McEntire's cheerleader daughter!) can save this train wreck. But as I like both Kirk and Garcia-Swisher (and the sneak peek had great ratings the night of the Olympics Closing Ceremonies!), this show
might
have a chance of making it through a full season before it gets chopped next May.
Grade:
D+
Both
Go On
and
Animal Practice
aired their pilots during the Summer Olympics, so they are available on
Hulu.com
. NBC has also made
The New Normal
pilot available on Hulu.
There you have it. The new Sitcoms that the major networks hope will help save the dying genre. I don't know what that says about Audience taste or Network standards, but it definitely feels like there is some apathy in the air. I guess that old saying is true: Dying is easy, its Comedy that is hard!