Today is quite a special day. 32 years ago, a young man was born and is now embarking on a writing career. As with most artistic careers, it has been a bumpy road but still creatively satisfying. For today, I want to share with you, my readers, a very special Birthday blogpost. I want to dedicate this post to all the special people who were born on this day. Below, I have listed 25 amazing, important, influential and dynamic people who each contributed something to the world in their own way (be it through the arts, entertainment, sports, politics or anything else!). So let us see which people (
besides yours truly!
) have helped make
September 24
a
very
special day.
John Marshall (1755-1835): The longest serving Chief Justice in U.S. Supreme Court history was one of the leading
Federalists
in the early 19th Century.
Franklin Clarence Mars (1883-1934): Founder of the prominent candy company Mars Inc., along with his son created the timeless candy classic M&M's.
Blind Lemon Jefferson (1893-1929): The "Father of the Texas Blues" influenced blues legends from Robert Johnson to B. B. King.
F. Scott Fitzgerald (1896-1940):
One of America's most celebrated writers lives on through his works, especially his most enduring:
The Great Gatsby
.
Audra Lindley (1918-1997): Best known as Mrs. Roper from
Three's Company
, one of the most popular sitcoms of the 1970s.
Jim McKay (1921-2008): For over 30 years, he hosted ABC's
Wide World of Sports
as well as hosted 12 Olympic Games and many other sports (ranging from the Kentucky Derby to the Indy 500!).
Theresa Merritt (1924-1998): This lovable character actress of Stage, TV and Film is perhaps best known for her title role on the 1970s cult series
That's My Mama!
Sheila MacRae (1924): Actress and singer who was married to the late Gordon MacRae and (most famously) played the role of
Honeymooners
' Alice Kramden on Jackie Gleason's late '60s variety show.
Anthony Newley (1931-1999): British actor, singer-songwriter and all-around performer is best known for is work in films like David Lean's
Oliver Twist
and the 1967
Doctor Dolittle
as well as his songs for
Goldfinger
,
Willy Wonka & the Chocolate Factory
and the Broadway hit
Stop the World-I Want to Get Off!
Chick Willis (1934): A controversial jazz & blues singer who started by working for his famous singer-cousin Chuck Willis.
Jim Henson (1936-1990):
One of the most influential creative minds of all-time (jn my humble opinion!) made millions of people happy with his Muppet creations especially the lovable Kermit the Frog.
Linda McCartney (1941-1998): She served as Paul McCartney's muse, especially during his Wings period, and we are all thankful that she made him
"Amazed."
Lou Dobbs (1945): The former CNN anchor who now works for the FOX Business network worked as CNN's money and business reporter since its inception in 1980 but left in 2009 due to issues stemming from his conservative-leaning political beliefs.
Joe Greene (1946): Known to the world as "Mean" Joe Green, the retired Pittsburgh Steeler is now best remembered for a famed
1980 Coca-Cola commercial
.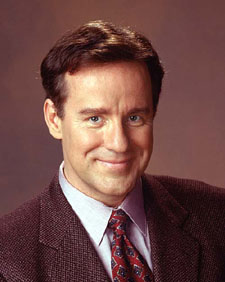 Gordon Clapp (1948): Emmy Award-winning character actor for his work on the landmark ABC series
NYPD Blue
also received a Tony nod for his work in the 2005 revival of David Mamet's
Glengarry Glen Ross
.
Phil Hartman (1948-1998):
The famed
Saturday Night Live
comic actor who also did brilliant work on shows like
The Simpsons
and
NewsRadio
was sadly murdered by his wife who then killed herself.
Kevin Sorbo (1958): He started as a model, jumped to acting in the late 1980s (auditioning for the leads on
Lois & Clark
and
The X-Files
) and got his big break as TV's Hercules on the cult favorite
Hercules: The Legendary Journeys
.
Steve Whitmire (1959): This protege of Jim Henson was the Henson family's choice to take over the role of Kermit the Frog upon Jim Henson's death in 1990 and
he has performed him ever since
.
John Logan (1961): This Tony-winning and Oscar-nominated playwright/screenwriter has worked on several critically-acclaimed films (like
Gladiator
,
The Aviator
,
Sweeney Todd
,
Rango
,
Hugo
and the upcoming Bond film
Skyfall
).
Nia Vardalos (1962):
She let us into a little bit of her life and family with her hilarious one-woman show turned hit romantic comedy movie
My Big Fat Greek Wedding
.
Rafael Palmeiro (1964): He was a popular left fielder for teams like the Chicago Cubs, Texas Rangers and Baltimore Orioles until it was discovered in 2005 that he tested positive for steroids, pretty much ending his baseball career.
Robert Irvine (1965): The Food Network chef/host has an abrasive and honest style that serves him well when helping restaurants turn their business around on his popular shows
Dinner: Impossible
,
Restaurant: Impossible
and
Worst Cooks in America
.
Stephanie McMahon (1976): Daughter of the famed Vince McMahon, who owns the Worldwide Wrestling Entertainment company, has made a name for herself as a wrestler and dominant "McMahon" personality.
Morgan and Paul Hamm (1982):
The twin American gymnasts who made names for themselves during the 2004 Summer Olympics in Athens where they (along with the US Men's team) won a Silver medal and Paul earned the All-Around Gold medal (despite some controversy).