With the Oscars less than 10 days away (
Sunday, February 26 on ABC
), it is time for me to start sharing with all of you my predictions for who shall win on Awards night. Today, I will cover the four acting awards (as those tend to be the only awards people care about!). On Monday, I will discuss the writing, directing and Best Picture awards. If I'm in the mood, I may even add some predictions for the other categories (usually referred to as "technical categories"). Before I start, let me give you a quick breakdown of what the percentage odds mean for each nominated person/film:
under 5% - very very slim chance, just count it/him/her lucky to be nominated
between 5 and 20% - chances slightly better, yet no real chance
between 20 and 30% - stronger chances, could pull off an upset
between 30 and 50% - really good chances, most likely the front-runner
over 50% - clear the mantle, your Oscar is ready for you
With that out of the way, let's talk about the Acting categories!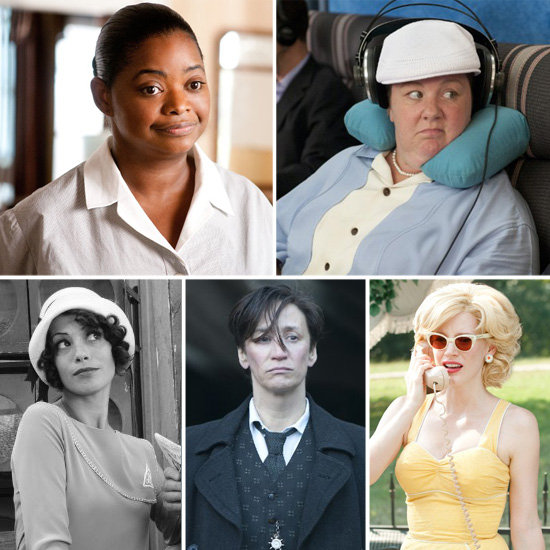 And the nominees are:
Berenice Bejo, The Artist; Jessica Chastain, The Help; Melissa McCarthy, Bridesmaids; Janet McTeer, Albert Nobbs; Octavia Spencer, The Help
Prediction: Octavia Spencer - 60%
The rest: Berenice Bejo - 25%; Melissa McCarthy, Janet McTeer and Jessica Chastain - 5% each
Explanation: Spencer has won most of the Oscar precursor awards for her scene-stealing performance in the audience favored The Help. Bejo could be a spoiler if Best Picture front-runner The Artist pulls off a sweep. McCarthy is one of the few nominees in Oscar history for a comedic performance (meaning the nomination is the win!). Tony-winner McTeer is an awards favorite, but hasn't been hitting the Oscar campaign like her co-star Glenn Close. And Chastain's nomination is the benefit of roles in other critically notable films this year (see The Debt, Take Shelter, Coriolanus and Best Picture nominee The Tree of Life) and an over-the-top performance in a strong ensemble film. But by all accounts, Spencer is the one to watch in The Help's brilliant ensemble (hence her wins at the Golden Globes, SAGs, BAFTAs and Critics Choice Awards!).
And the nominees are:
Kenneth Branagh, My Week With Marilyn; Jonah Hill, Moneyball; Nick Nolte, Warrior; Christopher Plummer, Beginners; Max Von Sydow, Extremely Loud & Incredibly Close
Prediction: Christopher Plummer - 72%
The rest: Kenneth Branagh and Max Von Sydow - 9% each; Jonah Hill - 6%; Nick Nolte - 4%
Explanation: Plummer is an extremely well-respected character actor amongst Hollywood's elite (and New York and London's for that matter!). It was mind-boggling to many pundits a few years ago that after several years in many noteworthy films that his Best Supporting Actor nod for The Last Station was his first. Now, he has a touching and funny role in an independent critical hit and has won literally every Oscar precursor award from the New York and L.A. Film Critics to the Golden Globe and SAG Awards. If there is a lock for Oscar night, it is Plummer's win in this category. As for the others, Branagh and Von Sydow each have a shot as their films are notable (and they have the veteran status in their corner as well!). Hill is in the most notable film in the bunch. But in a field full of veterans, the fact that he is an Oscar nominee is a reward. And Nolte garnered his third nomination for his critically acclaimed performance in a so-so film that has received no other nominations.
And the nominees are:
Glenn Close, Albert Nobbs; Viola Davis, The Help; Rooney Mara, The Girl With the Dragon Tattoo; Meryl Streep, The Iron Lady; Michelle Williams, My Week With Marilyn
Prediction: Viola Davis - 33%
The rest: Meryl Streep - 30%; Michelle Williams - 22%; Glenn Close - 12%; Rooney Mara - 3%
Explanation: This is probably the closest race of the high-profile categories. Viola Davis won the SAG and Critics Choice Awards and her win (coupled with co-star Spencer's presumed win) would be a historic photo-op and one for the record books. However, acting's unofficial "Grand Dame" Meryl Streep won the Golden Globe, the BAFTA and the National Society of Film Critics Awards. This is her 17th nomination in 35 years in the film business and she has not won an Oscar since 1983 (when she won her second one for her brilliant performance in Sophie's Choice). On the other hand, most of Streep's nominations (with a few exceptions) are for films in which she is the primary highlight and the films themselves are not on anyone's Greatest lists (meaning they range from "So-So" to "Above Average" and if she wasn't in them, they'd be "Crap"). And, according to most critics, The Iron Lady falls under that category. If the Academy voters have trouble choosing between the two dramatic heavyweights, a split still is possible and Golden Globe winner Michelle Williams is the likely benefactor of such a possibility. Meanwhile, Glenn Close (who hasn't been nominated since 1988's Dangerous Liaisons!) has been hitting the Awards campaign circuit, but with no precursor wins (losing to either Streep or Davis) an Oscar is unlikely. And newcomer Rooney Mara is the perfect example of "lucky to be nominated."
And the nominees are:
Demian Bichir, A Better Life; George Clooney, The Descendants; Jean Dujardin, The Artist; Gary Oldman, Tinker, Tailor, Soldier, Spy; Brad Pitt, Moneyball
Prediction: Jean Dujardin - 40%
The rest: George Clooney - 35%; Brad Pitt - 20%; Gary Oldman - 3%; Demian Bichir - 2%
Explanation: No one was surprised when Jean Dujardin won the Golden Globe for Best Actor in a Musical or Comedy, but many were surprised when he defeated George Clooney and Brad Pitt at both the SAGs and the BAFTAs. With those wins, Dujardin upped his odds and cemented the strong possibility of The Artist doing what The King's Speech did last year (win Best Picture, Director, Screenplay and Actor!). However, George Clooney is a Hollywood heavyweight and his performance in The Descendants is widely acclaimed (winning the Golden Globe for Drama and a several other Critcs Awards). Clooney's pal Brad Pitt, another Hollywood heavyweight, has yet to win an Oscar and he gives the type of performance in Moneyball that would win in any other year. Sympathy could help him pull off a spoiler. Had Gary Oldman won the BAFTA, his chances would be slightly higher. And SAG nominee Demian Bichir pulled off a surprise getting the fifth slot in this race (meaning slim is the politest word for his chances!).
So there you have it, my predictions for the Acting Awards at this year's Oscars. On Monday, I will talk the top prize (plus some others!). Stay Tuned!!!