It's still Awards Month! And yesterday, the final ballots were due for the 85th Academy Awards (
whether they want to call them that or not
!). So now it is time for me to give my final Predictions in the major categories. And just like previous years, I like to hedge my bets, so to speak. I love to tell my readers who I think "Will Win," but then follow with a "Dark Horse" or "Spoiler" (this year being referred to as "But..."). One comment you will see often throughout this article is that this has been one crazy Oscar season (for many different reasons!). And with a crazy season, nothing is easy and anything can happen. So let's dive right in with
MY 2013 ACADEMY AWARDS PREDICTIONS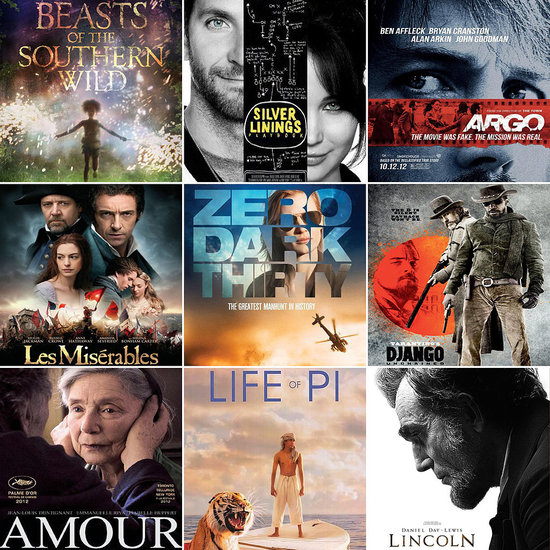 BEST

PICTURE
The Nominees: Amour, Argo, Beasts of the Southern Wild, Django Unchained, Les Misérables, Life of Pi, Lincoln, Silver Linings Playbook, Zero Dark Thirty
Category Overview: Just like last year, we have 9 nominated films in the top category. However unlike last year where The Artist was the early front-runner and pretty much kept that status throughout the precursors, several of this year's nominees have enjoyed that honor in this crazy Awards season. And now that all the precursor Awards have had their say and it seems like one film has emerged towards the winner's circle, I remind you that in a crazy season like this: anything can happen!
Will Win: Now that it has won ALL the Guild Awards (including the Actors and Writers!), Argo has placed itself into becoming the first film since Driving Miss Daisy (back in 1990) to win Best Picture without even being nominated for Best Director. It is a favorite of the critics and audiences have rallied around Ben Affleck since his snub from the Director's branch of the Academy.
But...: It's not all over for Spielberg and Company! Having the most nominations could still have weighed with Academy voters. Some could feel that with all the Guild wins, Ben Affleck has been sufficiently compensated for the snub and it's now time to be more "traditional." And as brilliant as Steven Spielberg's gem is, Lincoln does fall into the "traditional" genre that is better known as "Oscar Bait."
BEST DIRECTOR
The Nominees: Michael Haneke, Amour; Ang Lee, Life of Pi; David O. Russell, Silver Linings Playbook; Steven Spielberg, Lincoln; Benh Zeitlin, Beasts of the Southern Wild
Category Overview:
With several high profile snubs in this category (Ben Affleck, Kathryn Bigelow, Tom Hooper, Quentin Tarantino and Paul Thomas Anderson), one would think that this would be an easy win for one of Hollywood's biggest power-players. But as I said earlier, nothing in this Oscar season is easy.
Will Win:
Despite a small band of detractors, Steven Spielberg is one of Hollywood's greatest directors and it surprises people that he only has TWO Academy Awards for Best Director (for
Schindler's List
and
Saving Private Ryan
). This is the chance for Hollywood to give him his due and honor him with a well-deserved third Oscar for
Lincoln
(especially now with the likes of Ben Affleck and Kathryn Bigelow out of the race!).
But...:
That small band of detractors are rallying behind Ang Lee and his stunning visual achievements in Life of Pi. And it is possible that their arguments have swayed some of the Academy voters. While I still say Spielberg has it in the bag, I wouldn't be too surprised should Ang Lee's name be read on Sunday.
BEST ACTRESS
The Nominees: Jessica Chastain, Zero Dark Thirty; Jennifer Lawrence, Silver Linings Playbook; Emmanuelle Riva, Amour; Quvenzhané Wallis, Beasts of the Southern Wild; Naomi Watts, The Impossible
Category Overview:
Wallis is the youngest Best Actress nominee ever and Riva is the oldest (and each are receiving their first nod!). The other three (Lawrence, Chastain and Watts) are receiving their second Oscar nomination.
Will Win:
Jennifer Lawrence was an early front-runner in the category the minute
Silver Linings Playbook
premiered at the Toronto Film Festival. With a Golden Globe and a Screen Actors' Guild Award under her belt, the young actress is on her way to Oscar glory.
But...:
Lawrence is not the only one here with a Golden Globe Award. Jessica Chastain, who gave a stunningly brilliant performance in
Zero Dark Thirty
, won both the Golden Globe and the Critics' Choice Award for her efforts as a determined CIA Analyst. Though the "torture issue" surrounding the film might have made voters squeamish to give
ZDT
a high-profile prize.
However...:
Both Chastain and Lawrence have lost a few critics' prizes (the National Board of Review and the L.A. Film Critics) and last week's British Film Award (BAFTA) to
Amour
's Emmanuelle Riva. The French character actress has been a star in France for several decades and many have pointed out that this is her chance to be honored by Hollywood for her many years in French Cinema (and we know how the Academy loves to give "Career Oscars!").
BEST ACTOR
The Nominees: Bradley Cooper, Silver Linings Playbook; Daniel Day-Lewis, Lincoln; Hugh Jackman,
Les Misérables
; Joaquin Phoenix, The Master; Denzel Washington, Flight
Category Overview:
Phoenix was an early front-runner, but spoiled his chances when he stated his true feelings about the whole campaigning process. Jackman and Cooper both wowed audiences with their performances and Washington gave his best in a complex role (as he always does!). But then there's Daniel Day-Lewis.
Will Win:
From the moment critics and audiences saw screenings of
Lincoln
, the writing was on the wall that Day-Lewis would become the first performer to win a third Best Leading Actor trophy. His performance is so nuanced and brilliant that no one can really compare to him (which is kind of unfair!). The best description of Day-Lewis came from
Entertainment Weekly
's Owen Gleiberman who compared his style to a combination of the method attitudes of Marlon Brando and the classical training of Sir Laurence Olivier. That's a combination that deserves every Award ever made!
But...:
There really isn't one in this category! It's one of two major categories this year where there is a surefire front-runner from the word "Go." The only thing that could stop Day-Lewis is a complete and utter shut-out of Spielberg's film. But then who would the beneficiary of such a shut-out be? The most likely would be either Jackman or Washington, and both of them have not gained enough traction in any of the precursors to be a real threat (despite Jackman's Golden Globe win!).
BEST SUPPORTING ACTRESS
The Nominees: Amy Adams, The Master; Sally Field, Lincoln; Anne Hathaway,
Les Misérables
; Helen Hunt, The Sessions; Jacki Weaver, Silver Linings Playbook
Category Overview: All of the actresses in this category have been nominated before (though three of them are new to the Supporting Actress category!).
Will Win: Is there any doubt that Anne Hathaway will win this one? From the second her voice was heard in the trailer singing the iconic "I Dreamed a Dream" song, pundits placed her at the top of their lists for this category. Then when the film premiered, critics (even the ones that didn't like the film!) fell in love with her tragedienne performance especially when they discovered she sang the song live in one take! On top of all that, she has been the most gracious winner at the precursors. She has given heartfelt speeches and sincere praise to her fellow nominees (especially Sally Field!). She's become the kind of Oscar contender Academy voters just adore.
But...: Like Best Actor above, if there is a "Spoiler" here, it would be minute. Sally Field gives a great performance as Mary Todd Lincoln in Steven Spielberg's film. The fact that she had to fight to keep the role once Liam Neeson backed out of the project is the kind of story Academy voters love. However, it's a story that is not unfamiliar in Field's career. Back in 1979, she had to fight to get the title role in Martin Ritt's Norma Rae. Her endeavors were rewarded with her first of two Academy Awards (the second came for 1984's Places In the Heart, another role for which she "fought"). She's been rewarded enough for fighting for her roles. It's Anne Hathaway's turn!
BEST SUPPORTING ACTOR
Category Overview: This category is going to work a little differently! This is the
toughest
category to predict. Maybe the toughest ever! ALL of the five actors nominated are previous Oscar champs (a feat which has
never
happened before!). And none of the precursors have been any help to any of the pundits. It seems like they predict one and then someone else wins. So I will take you through each nominee and give you the reason why I can see ANY ONE of them taking the prize on Sunday.
Alan Arkin,

Argo

- For many, Arkin was the scene-stealing best part of Ben Affleck's political thriller. As the Hollywood producer who joins Affleck's CIA Agent in endeavoring to rescue some American Embassy workers from Iran, Arkin has the best dialogue and the best scenes. He hasn't won any of the precursors, but he's been nominated for every single one. And with

Argo

surging forward in the top category, it is not unlikely that some of that love could fall Arkin's way.

Robert De Niro, Silver Linings Playbook - Out of all the nominees in this category, his win is the oldest (having won his second Oscar in 1981 for Raging Bull!). Like Spielberg, it surprises people that De Niro (being the legend he is!) only has two Oscars. And with his role as Bradley Cooper's tough-talking yet extremely sensitive and caring father, many critics felt that this was De Niro's return to form after years in light/comedic roles (Analyze This/That, Meet the Parents/Fockers, Stardust, etc.). Actors love this movie (with nods in each of the Acting categories!) and De Niro could benefit from some of that love.
Phillip Seymour Hoffman, The Master - Hoffman made himself an early front-runner with his role as a 1950s cult leader in Paul Thomas Anderson's poignant film. He even won the Critics' Choice Award back in early January. However with the film falling off the radar and only getting nods in three categories (the other two being Best Actor and Best Supporting Actress!), his chances have dimmed dramatically. But he is the only contender who won a major Critics' prize. That may carry weight with some of the Academy voters.
Tommy Lee Jones, Lincoln - He won the Screen Actors' Guild Award for his stirring portrayal of abolitionist Senator Thaddeus Stevens. Some have even said it was hard to tell where Stevens ended and Lee Jones began (which is both a positive and a negative!). He is the category front-runner with most of the pundits, but he has fierce competitors.
Christoph Waltz, Django Unchained - A lot of people felt he should be in the Lead category as he is the contender who has the most screen time in his respective film. But as he is not the title character, Waltz (my personal favorite!) has been relegated to the Supporting field and has raked in a couple prizes to boot! Waltz beat his co-star (Leonardo DiCaprio) at the Golden Globes and just last week was honored with the BAFTA in this category. For someone who at first was not on the radar at the beginning of Oscar season, he has now moved himself in to major contender status.
Will Win: Any one of them could be the winner, but I guess I'll go with the majority (the 27% majority!) and say that Tommy Lee Jones will be the eventual winner. But I go on record saying that any one of these five names could be read from that envelope by The Help's Octavia Spencer on Sunday night.